Getting a new printer can be costly, especially if you're replacing an older model. Proper maintenance doesn't take much effort or expense, but printers have a limited lifespan of around three to five years. Eventually, an upgrade may become necessary.
This article will provide 7 suggestions for extending the lifespan of your printer.
OPT FOR HIGH-QUALITY PAPER
Quality in equals quality out. The same goes for paper and printers. To ensure trouble-free printing, it's important to use high-quality paper. This will minimize the risk of problems arising from the paper's quality.
USE DRAFT PRINTING MODE
If the professional-level output is not needed, utilizing draft settings on your printer can conserve ink. Many modern printers offer draft mode, which accelerates the printing process and reduces the amount of ink or toner used per page.
MAINTAIN PRINTER CLEANLINESS
It's better to prevent issues than to fix them. Dust can harm the printhead, leading to costly repairs. Keep your printer clean by wiping it with a soft, dry, and lint-free cloth. Avoid using compressed air. If you're having trouble feeding paper, clean the rollers by wiping them with a soft, dry, and lint-free cloth.
PROTECT YOUR PRINTER
If you work or reside in a dusty environment, make sure to cover your printer with a cloth when not in use. Dust can get into the printer's internal parts and cause damage. Regularly dust your printer or keep it covered with a clean cloth to prevent buildup.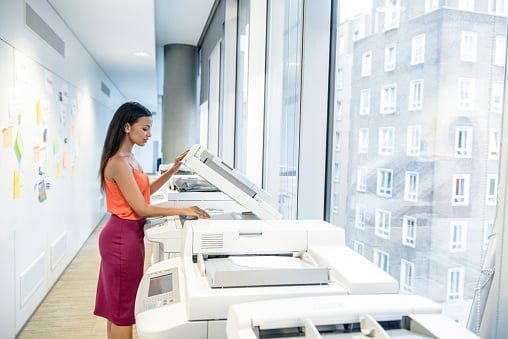 BE WARY OF CHEAP PRINTERS
While budget printers may seem appealing, their inconsistent performance and subpar output could result in additional expenses in the long run. For a cost-effective balance of affordability and performance, consider purchasing a mid-range printer that provides better overall results.
LEARN HOW TO PROPERLY USE A PRINTER
By learning the correct way to use a printer, you can avoid issues caused by improper usage and reduce the risk of damage. If everyone understands the proper techniques and guidelines for using a printer, the likelihood of making mistakes decreases.
REGULAR SERVICE CONTRACT WITH THE PROVIDER
Many companies that sell printers also provide maintenance services. By having a service agreement with the manufacturer, they will have exclusive access to your printer and be able to effectively repair and maintain it, avoiding recurring issues and costly repairs from other service providers.
Ensure that all users, whether it's the office intern, your children, or yourself, are familiar with the printer manual. By following these straightforward tips and taking the time to learn, you can maximize the value of your investment and prolong the lifespan of your printer.
If you plan to get copiers for your Birmingham office, you can opt to buy copiers or lease copiers in Birmingham. We can give you options for getting the copy machine that you want. You can contact our local copier leasing services department in your location.
If your location is around Birmingham, you may call us at (205) 409-9338, and our personnel for copier leasing in Birmingham will assist you. If you are also looking for copier repair services in Birmingham, you may contact our copier repair personnel at the same number.